Posted on Friday, January 08, 2016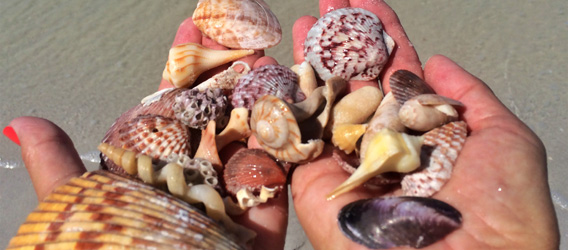 It's not every day you make it to the beach. You have jobs, parties, long commutes, and busy nights. Some of you reading this probably live in the Great White North where going to the beach or seeing water not covered in a sheet of ice only happens three or four months out of the year. There are a million reasons you don't get to go to the beach. Even us locals don't make it to the beach every day. Personally, I can take a 10-minute bike ride and be at any one of a dozen beach accesses on Sanibel. Yet, I find myself too busy to even scrape out 20 minutes of my day to go to the beach and back.
But that's why you come here to Sanibel (or Captiva or Fort Myers Beach, etc.), to set aside that special time to go to the beach. And what is the #1 thing to do on the beaches here in Southwest Florida? Go shelling. We all need to practice our Sanibel Stoop every once in a while and see what little treasures we can find. After all, what could be more relaxing than combing miles of beach for that perfect shell?
Now, as a scientist, I feel I owe you an explanation of WHY the shelling is so good here. Go ahead and put on your lab coat, thinking cap, and smartest-looking pair of glasses. Things are about to get sciencey.
Sanibel and Captiva are barrier islands. Essentially, they were once little sandbars running along the coast of mainland Florida and over time grew larger and larger into islands that flourished. There are many barrier islands along the coast of Florida but Sanibel is highly unique for its exceptional shelling. Yes, Sanibel is THE shelling capital of the world and for one simple reason: our little island here spans from east to west. Most barrier islands run north-south paralleling the mainland. Not Sanibel though. Nope, we have a unique little island here.
But Sarah, what does that have to do with shelling? A shell doesn't choose which beach becomes its final resting place. You're right! But the currents do have a say in which beaches these shells land on. The flow of water around the tip of Florida and north along the Atlantic side of the state converges into a giant river-like monster called the Gulf Stream. However, some of that flow peels off before it rounds the end of the state and curls up the west coast. Because Sanibel runs east-west, all of the goodies getting pushed north by this current land behind your condo! Thus, many of the beautiful shells that can be found in the Gulf of Mexico can also be found right here on Sanibel.
So thank you Sanibel, for being the oddball island that just had to plant itself on this earth sideways. We all owe you one.
Happy shelling! - Marine Biologist & Shelling Enthusiast Sarah