Posted on Monday, January 18, 2016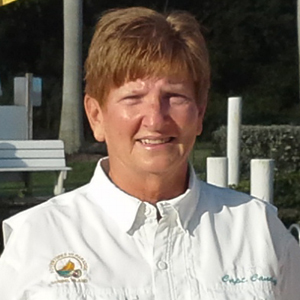 I moved to Florida with my husband, Capt. Harvey, 21 years ago and have boated extensively in these waters; learning about the area and its flora & fauna that we are so fortunate to enjoy. As Capt. Harvey introduces us to our guests, he tells them he has known me for 41 years, & with a slight hesitation, then says, "Oh, did I tell you that she is my wife?" We work well together as a team! We love being on the water sharing our passion and knowledge with many very interesting people hoping to make their time spent with us at AIP a most memorable experience.
Growing up in Minnesota my prior boating experience was on inland lakes and Lake Superior. In 2009 I obtained my 100 ton master USCG license.